There are a total of 293 items to be collected in Tom Clancy's The Division which include Phone Recordings, Survival Guide, Echos, Missing Agents and Crashed Drones. They are categorized as Evidences and Collectibles. This guide shows the locations of all the collectibles in Midtown East.
All Intel Collectible Locations in Midtown East
18 collectibles are present around the area in the form of Phone Recordings, Echos, Survival Guide and Incident Report. Midtown East has a greater difficulty level of 28 – 30 which could be a bit challenging. So make sure you are all geared up for the challenges.
Phone Recordings(8)
Vitaly Tchernenko's Journal 1
Vitaly Tchernenko's Journal 2
Vitaly Tchernenko's Journal 3
Vitaly Tchernenko's Journal 4
Vigilante 1
Vigilante 2
Urban Explorer 5
Urban Explorer 6
Echos(1)
Incident Reports(2)
Taking Manhattan
Breach of Contract
Crashed Drones(2)
LMB Processing
Supply Line
Survival Guide(2)
Missing Agent(3)
Tatiana Atkins
Aaron Keener
Michelle Back
The exact map of the Midtown East which shows all the collectibles is given below for a better reference. Check it out now.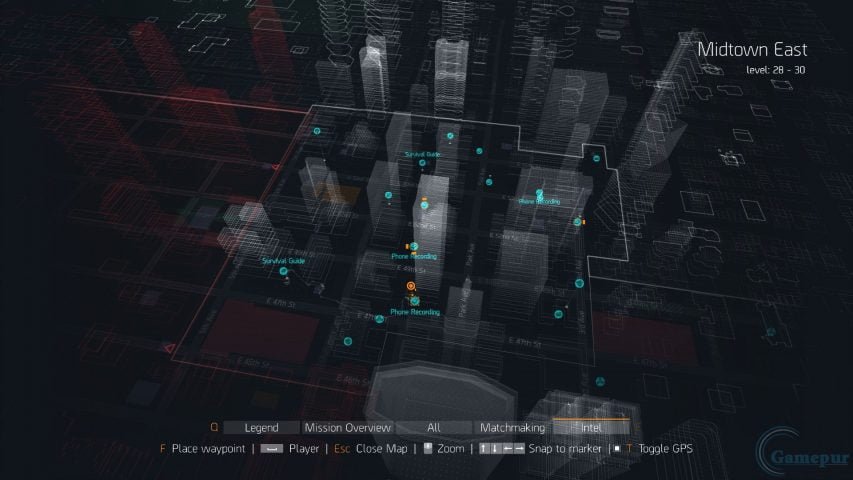 The Division Wiki Guide: All Intel Collectible Locations in Midtown East