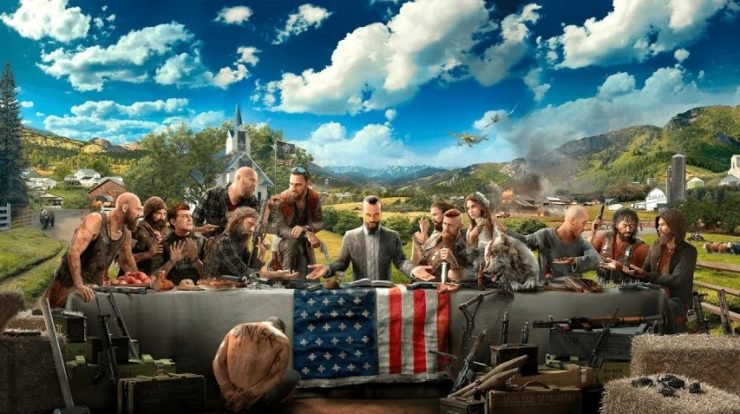 The announcement trailer for Far Cry 5 was very calm and peaceful, a soothing voice takes us over the many features of Montana, the tranquil towns, calming nature and the emphasis on simple, human life was something which set apart the previous Far Cry game trailers from the rest.
Fortunately, that wasn't the story at all. The state of Montana is shown to be engulfed in religious extremism terrorizing the population. The population is shown to be almost sick and tired of the fanatic religious cult called Eden's Gate and want to get rid of it.
We get a glance at the many important characters in the game; Pastor Jerome Jeffries, Mary May Fairgrave and Nick Rye. The common thing linking these three characters is their suffering and hate for Eden's Gate.
From the trailers and character intros, there have been some amazing new revelations about the game. Eden's Cult in Far Cry 5 isn't a friend to the average Joe or Jane in Montana but are an invading party which have corrupted the law of the land and are a cause of major upset.
The Story
The main antagonist in Far Cry 5 is Joseph Seed and his family. He's the one shown as the "Christ-like" figure in the game's poster which resembled The Last Supper.
From what we've gathered so far, it seems like we are going to be playing as a Deputy Sheriff who is sent into The Project at Eden's Gate with two other police officers by the US Marshals, you are tasked to arrest Joseph Seed.
Here's the twist, like in much of the other Far Cry games, Seed is willing to cooperate and gives himself over willingly. But, in a turn of events, everything goes wrong and you and your colleagues are captured and taken as hostages in the inhospitable and violent land by the Heralds of Eden's Gate.
It seems like you have to work alone and start dismantling Joseph Seed's operations and take down his family one at a time. There are a lot of interesting characters which fit the description of bad ass like Mary May Fairgrave and Nick Rye. Though, I wouldn't underestimate Paster Jerome Jeffries just yet. Much like the religious gun dealer in Far Cry 4, he will most probably play a vital role in the game's story.
Nick Rye seems to be obsessed with Planes and flying, and is a soon-to-be father. He will definitely be the one hooking us up with the flying contraptions we will be using (mainly planes) and will also be the one showing us the ropes. We can already expect a major plane mission already; though, that's not confirmed.
Who Are We?
To be completely fair; we're no one in particular (maybe other than a Deputy Sheriff). For the first time in Far Cry history, the game features a build your own character system, you can choose between races, gender, color among various other things.
This time around, the game focuses on actual player consequences and the character you make will be what you make of him, the choices you make and the things you decide will ultimately be what defines your character. Something which we want to see done much better than the somewhat dull and apathetic character of Ajay Ghale in Far Cry 4.
Character wise, if there is a focus on our character being a dull and almost dumb part of the story who ends up taking down whole empires in the middle of an unknown and hostile territory and still feels like an important and indistinct part of the main plot, then we may have a problem.
Far Cry 3 did the story extremely well, giving us choices a scenarios where our character felt extremely helpless, being run by the plot. In other times however, we were shown to be completely on top of everything. The very blended mixture of bad assery and feeling of helplessness set apart Far Cry 4 and 3.
We do want to see a nice feeling of hopelessness and some extremely interesting antagonists throughout the game. If the decisions we take define the story, there needs to be some serious drop kicks heading our way in the story, making it interesting and exciting, making us choose between two extremely important characters and more.
Hope County Isn't as old fashioned as you think
While there were rumors that the latest Far Cry 5 would be set in a much older time frame which was closer to the Red Dead Redemption 2 plot but the fact that there is a slew of modern day technologies and guns to our disposal clearly shows the time frame.
Quad bikes, biplanes, M4 assault rifles, pretty cool compound bows and rocket launchers among other things. The time frame could be anywhere from 1990s to the early 2000s. While there is a nice focus on planes from Nick's character introduction, there is a lack of mention of the many other vehicles we'll be seeing. Though, that may be left for a future trailer.
While Eden's Gate is the extremist cult which is terrorizing the place, there is a lot more to the story than just the main antagonists. We want to understand who the "sinners" are, and what kind of character Joseph Seed really is. If he claims to be a Prophet, we can assume that his following is religion based (like in Outlast 2?). But, if he uses his religion as a tool of power, then we can assume that he is much less divine and a lot more fiendish.
When will it be out?
Far Cry 5 is not launching in 2017 and will be out in the next fiscal year, it could be anytime between right now and March 2018. Although, early 2018 would be a much safer bet.
2017 – 2018, we'll see some amazing new releases by Ubisoft. South Park: The Fractured But Whole and Assassin's Creed: Origins, Far Cry and The Crew. With E3 coming up, we'll definitely get some more sneak peeks at what's to come.