Since its inception back in 2008, Zombies have been an inseparable part of the Call of Duty games every year. The co-op mode which was originally introduced as bonus content in Call of Duty: World at War is now a major talk in community.
The Call of Duty franchise received a lot of hate from the fans in the recent years. The reason was pretty simple. The fans were getting fatigued by the insanely far future setting that the series adopted in recent entries.
This seems to be no more of a problem as Sledgehammer Games took it upon themselves to revive this dying franchise. With Call of Duty: WWII, the series heads back to its original roots of a world war era setting giving fans what they've been craving for a long time. The current generation hardware makes sure there's no holding back and deliver a true next gen World War II experience. And that means an even better Zombies campaign.
Nazi Zombies was announced back in April. However, no footage was shown until this week. The first trailer was finally unveiled and it couldn't be any creepier. We have five reasons why this year's zombies mode is going to be nuts. Let's check them out.
Gruesome Visuals
Call of Duty series has been primarily known for its immersive gameplay and epic storylines and never because of the visuals. This year's entry seems to turn the tables and it's looking great from early footages. The game is under development at Sledgehammer Games and is using a redesigned IW engine. This week's trailer of Call of Duty: WWII Nazi Zombies drove us into total frenzy when we had our first look at it. It's darker, grittier and better. Nazi Zombies glorifies the undead with surprisingly great new visuals. This is the zombies game we've been waiting for. It's an absolute feast for the eye which is looking for nothing but mayhem. Zombies has never looked better.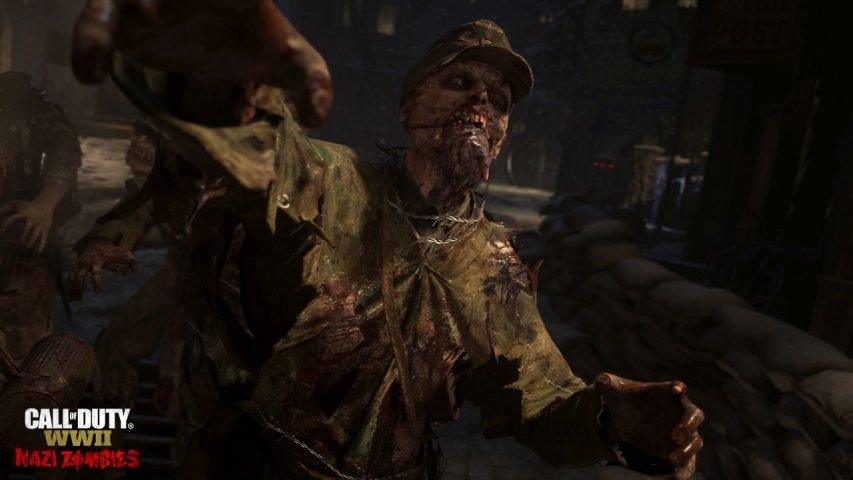 Epic Star Cast
Activision has never compromised with casting Hollywood fame in Call of Duty. In the main campaign, we've seen characters played by stars like Kit Harrington and Kevin Spacey. Zombies mode had talents like Seth Green and David Hasselhoff. This doesn't stop as we'll see stars from TV hits like Vikings, Daredevil and more. The full list includes Katheryn Winnick (Vikings), Udo Kier (Ace Ventura: Pet Detective), Elodie Yung (Daredevil), David Tennant (Doctor Who) and Ving Rhames (Pulp Fiction). All of them have played roles of ruthless characters and that's what we need to crush through the undead. Each one of them have lent their voice and likeness to the game. So, we should expect some classic Hollywood action this year.

Bizarre Plot
Sledgehammer Games said that they wanted to stay true to the World War II setting as they can. This is game is like a tribute to the war veterans with as much historical accuracy with events and places. Activision is not even denying whether the Nazi concentration camps will be depicted in the campaign. The Nazi Zombies is an alternate take on the setting with real world locations and references. The game takes the crew on a secret mission to the mysterious village of Mittelburg in the Bavarian Alps. The story takes lessons from classic games like Return to Castle Wolfenstein.
The official description of the plot reads:
Players will embark on a chilling and mysterious journey through a snowy Bavarian village in Mittelburg, Germany, as they attempt to recover priceless works of art stolen by the Axis powers in World War II.
It continues:
This village holds a shadowy secret key to an unimaginable and monstrous power. Nothing is at it seems in this zombie horror, as a dark and sinister plot unfolds to unleash an invincible army of the dead.
We've had hours of fun on maps like Der Riese, Origins and Mob of the Dead. With the release of Nazi Zombies later this year, we are sure it's going to be a hell of a winter.
Unforgiving Gameplay
This might be an early stage to talk about the gameplay but we've have idea as how it's going to be. Sledgehammer Games have talked about the change in combat mechanics in WWII with removal of automatic health regeneration. Features like double jumping and unlimited sprint are also gone. So, better watch your back and get ready for some intense fighting in Nazi Zombies as well. It's all about working as a team and shooting the abomination right in the head. It's not going to just another zombie shoot 'em up adventure and survival will take more than what we've seen till now.
We'll probably see more gameplay at Gamescom in August.
Undead Nazis
The last reason is the most important as well as the obvious one. Killing Nazis has always been fun but smashing the head off an undead one is a whole new level. Sniper Elite's Nazi Zombie Trilogy and Wolfenstein have pioneered in this genre for a long time and so has Call of Duty. In the past, Zombies let players play with incredibly powerful arsenal of upgradable weapons. A recent pre-order bonus announcement by Activision confirms that weapon customization will be a feature in Nazi Zombies. Our bodies are ready to take out hordes of undead. Are you?
Call of Duty: WWII lands this November 3 on PC, PS4 and Xbox One. Till then, sit tight and watch the reveal trailer below.
Read More: Call of Duty: WWII Will not Let you Play as the Axis Powers & Nazi German Campaign is Out of the Question