After downloading and installing the Citrix Receiver, we may face an issue, Citrix Receiver Issue for updated Firefox 30+ browser.
When you try to connect to the client network and click on the Remote desktop launcher in the Applications tab, you may face difficulty in Firefox version 30+. After you click the Remote desktop launcher, the page would get refreshed but no VDI will get launched.
For successfully accessing the client network system, you need the launch.ica file (which is just 1.7 KB) to get downloaded to your system and which will ultimately launch the desktop with the help of Citrix receiver.
So here's Citrix Receiver Issue For Updated Firefox Solved, and yes, a quick one.
You just need follow the steps that I mention below.
Open Firefox.
Open Menu and Click on Add-ons.
Click on Plugins and Find Citrix Receiver from the list of Plugins.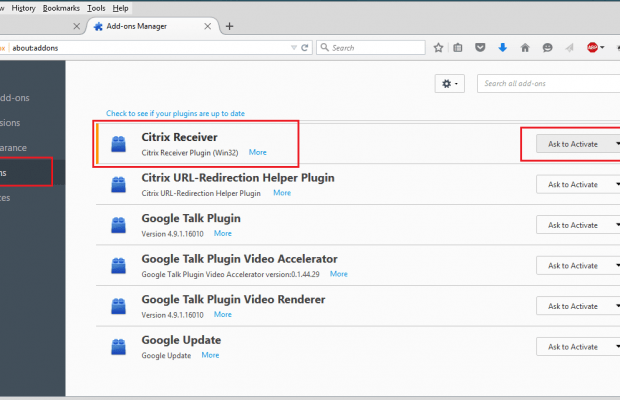 On the right side of the Plugin name, select Always Activate from the drop-down menu.
And you are already done with the first part of the setting changes.
Next and the last step is that in the Firefox menu, Click on Options.
Open Applications from the left menu sidebar.
Search for the Citrix ICA Client application.
On the Action column next to the application name, you can see that the action is 'Use Citrix Receiver (in Firefox)' , So change it to 'Use Citrix Connection Manager (default)' by selecting it from the dropdown list.
.
There you go. Now you can login to your remote access link and click on the remote desktop launcher and it will work fine.