We saw a number of interesting announcements at this years E3 expo. RPG fans will especially praise this year's lineup as a lot of them are coming in in the months ahead. From indie titles like Pyre to bigger AAA productions like Kingdom Hearts 3, the list is full of amazing games.
Various RPG games have always managed to amaze gamers in their own incredible ways. Over the recent years, we have seen some fantastic games in this genre like The Witcher and Mass Effect. Here, we talk about the best five upcoming role-playing-games which will be released this year or the next.
Without further ado, let's go straight ahead to the first one.
Vampyr
If you've played games by developer Dontnod, I am sure you'll know why Vampyr is on this list. Dontnod is well known for its recent episodic blockbuster, Life is Strange. Personally, I believe that Remember Me ( another Dontnod title ) was one of the most underrated titles in last generation. Anyway, let's focus on Vampyr. It's a game set in the post – World War era London during the outbreak of the Spanish flu pandemic. Players take the role of Jonathan E. Reid a doctor who becomes a vampire after getting bitten by one of the patients. Interestingly, it'll be entirely possible to complete the game without taking a single life. Vampyr launches on PC, PS4 and Xbox One this November.
Middle-earth: Shadow of War
The sequel to the 2014 hit RPG is official and we couldn't be more excited. Shadow of War continues the saga of Talion who is still infused with the the spirit of the elf lord Celebrimbor. Developer Monolith Productions has assured fans that in contrast to the previous game which was a hack-n-slash title, Shadow of War will have more RPG elements. The Nemesis system is also improved which will now apply to a larger part of the world and characters called Followers who behave according to the way player-character has interacted. This is one of the most awaited AAA titles this year. Initially Middle-earth: Shadow of War was scheduled for an August 2017 release but later got delayed till October 2017 to meet quality expectations according to the Warner Bros.
Kingdom Hearts 3
Ah, Kingdom Hearts! The long awaited sequel which was first shown back in E3 2013. The game is not released yet and we are very hopeful that it'll see daylight sometime in the mid-2018. We got a brand new gameplay trailer of Kingdom Hearts 3 at E3 2017 and it looks like the game is coming up pretty good. The final adventure in the Xehanort Saga sees the return of Sora who will be joined by Goofy, Donald Duck, King Mickey and Riku. They embark on the quest to thwart the plans of Master Xehanort for a second Keyblade War. Planned to be released on both PS4 and Xbox One, Kingdom Hearts 3 is also the first title in the series to take advantage of the Unreal Engine 4. Are you waiting for this?
Kingdom Come: Deliverance
Be the knight in the shining armor and gallop through the immersive open world of medieval Rome. Kingdom Come: Deliverance promises breathtaking visuals of CryEngine with great historical accuracy. The game puts into the shoes of the son of a blacksmith whose family is killed by the invading forces. The story follows up his quest for revenge and the struggle to restore the rightful heir to the throne of Kingdom of Bohemia. It is currently under development at Warhorse Studios and is being eyed for a spring 2018 release on PC and consoles.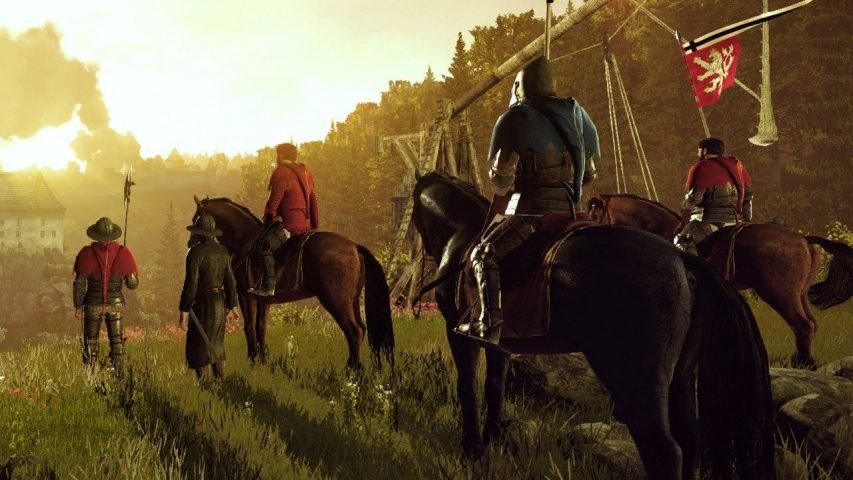 Pyre
Readers might argue why this title in on this list. Well, we have a reason and we believe you'll agree. Pyre comes from Supergiant Games, the minds behind indie hits like Bastion and Transistor. These were one of most beautifully crafted indie titles in recent years with an equally compelling story. Pyre is built upon the same belief with the "the biggest and most imaginative world." The game features a three-on-three battle system with a branching story and "no game-over." The game's combat system is a "mix of DoTA, Rocket League and Transistor". A local multiplayer mode for two players is also promised. Can it live up to our expectations? We'll find out on July 25 2017 when it comes out on the PC and PS4.
So, we've come to an end with this one. Apart from these, there are numerous other games we are excited for. What game are you excited for this year? Share in the comments.
You can also check out the Top 5 Racing Games Coming in 2017-2018.