First Person Shooter games or FPS games as they are better known have been a significant part of the gaming culture since a long time. The genre dates back decades when games like Wolfenstein and Doom first came out. Well, we've come a long way since then and it's going nowhere. E3 2017 saw some of the biggest reveals in the history of video gaming.
We've shortlisted five of the most anticipated shooting games that will be released this year or the next. Without further ado, let's jump into the list.
Call of Duty: WWII
Yes, the biggest potential blockbuster of this year is now official. Activision took the veils off and made a grand announcement of the game. The series finally heads back to its roots and by roots, we mean not only the setting but also the way we play. Say good bye to automatic health regeneration and even auto ammo-refill. The feature was first introduced in Call of Duty 2 and has been present in each game since then. WWII will re-introduce health packs. This is certainly a controversial move among series fans but at the same time it'll be interesting to see how this changes the modern multiplayer scene. Every bullet counts and one can no more sit in the corner while emptying his magazine without any worry.
Sledgehammer Games told that this game focuses heavily on historical accuracy. Real battles and even real war heroes from the pages of history will be depicted. Rumor also suggests that it's going to be the first WWII game to show the holocaust. Technically, the graphics of this game look insane along with characters played by stars like Josh Duhammel. It launches this holiday season. We can't wait to play this. Can you?
Destiny 2
The 2014 hit from the studio behind Halo games is back. Destiny 2 is all set for release this fall with tons of new features an in-depth focus on story this time. The game features an optimal way of matchmaking called "Guided Games" that lets players search for clans in need of additional players to carry out strikes or raids. However, the biggest news comes from this year's E3 that Destiny 2, apart from consoles, will makes its way to PC. This is certainly a huge news for the PC users. It will be playable in glorious 4K on the platform with uncapped framerate, full mouse and keyboard support and 21:9 monitor support.
"The cornerstone of that is a great cinematic story that's been a real focus with a great cast of memorable, relatable characters, coupled with some very nice ways to make the game more accessible to a casual player. Without losing anything that our core players love, we've made it more accessible to someone who just wants to have a great, more casual first-person action experience," said Eric Hirshberg of Activision.
Seems like it's going to be even more fun this time around. How excited are you?
Far Cry 5
This is one of those games which I've personally followed since the first game. The series saw the transformation from a sci-fi based shooter to a survival based after the first game. The peak of the series was, however, the third game where the infamous character of Vaas who took it by storm. Vaas Montenegro is also considered among the all time greatest villains in video games. Well now it's time for yet another change as the series heads to modern day Montana. Far Cry 5 features an evil cult based in none other than America itself. Some revolutionary changes to the gameplay include the removal of minimap and towers. So, basically now players have to unlock parts of the world by actually going to places themselves in the game ( Sounds more realistic now ).
Emphasis on the Guns for Hire system with interesting characters who can support from different vantage points and even from air was put. The gameplay demo at E3 showed how this feature works in a mission. Other aspects of gameplay remain the same as earlier games. Far Cry 5 releases in spring 2018. Are you waiting for this game? Let us know in comments.

Wolfenstein II: The New Colossus
Wolfenstein has always been close to my heart. It's one of those game which I played in my childhood. I could still remember the epic moment when I finally defeated Heinrich I in Return to Castle Wolfenstein. The New Colossus takes place after the events of its predecessor and shows a Nazi occupied USA. A few films and video games have taken this route before this. It'll be interesting to see how this beloved franchise manages to depict this dystopian setting.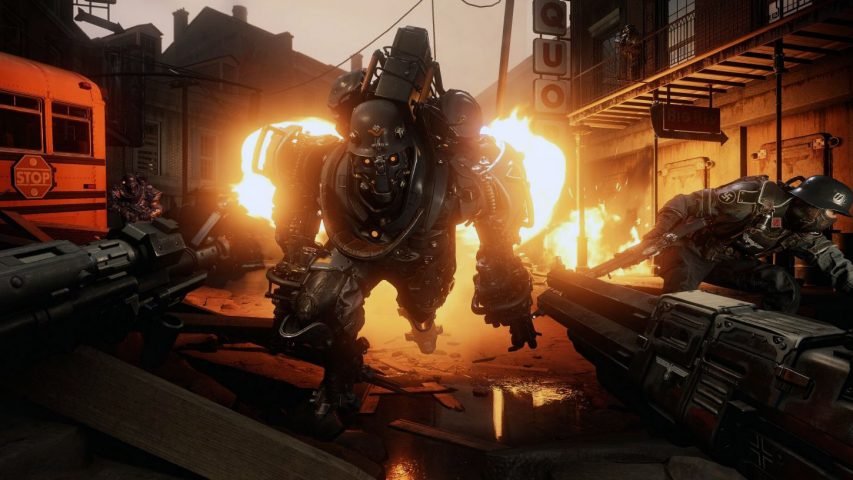 Blazkowicz is back and so are other important characters from The New Order including Anya Oliwa. The E3 showcase stole the show with an overwhelmingly good trailer. Everything about the trailer was just how it should have been. From it, we can pretty much confirm that huge mechanical Nazi bots will return. Oh! and not to forget that we also caught glimpses of BJ struggling with what look like the undead. Knowing all these, it's almost time to replay the previous entries before this one hits the market this October 27.
Star Wars: Battlefront II
The first game was not as successful as EA expected it to be. It looks like that they have learned from their mistakes and everything's going to be great this time. Battlefront didn't have a dedicated single player campaign but Battlefront II does. Sweet? It features a female lead and the story spans across all the eras of the series. So, we shouldn't be surprised to see both Luke and Rey in this game. It will have a customizable character class system and content from The Force Awakens and upcoming The Last Jedi.
It aligns with the release of The Last Jedi this year. The fan community is going crazy for the movie already. It'll be the perfect time for the game's launch. But wait for the best part. Here it comes, Star Wars: Battlefront II does not have a Season Pass. This simply means all the post release DLC will be available to everyone free of cost. A move like this from EA is a message in disguise that good times are ahead. The gameplay from E3 showed a much improved multiplayer gameplay with clearly defined classes, new vehicles and heroes of course. An exciting hero-vs-hero battle showed Rey, Han Solo, and Darth Maul wielding their light sabers and blasters and going all onto each other.
Overall, it looks like a lot more complete shooter than the previous game and we can't wait. What's your level of hype for this?
That was all about the major shooting games from this year's E3. What other games are you looking ahead to? Share in the comments.
You can also read about Top 5 RPG Games Coming in 2017-2018.