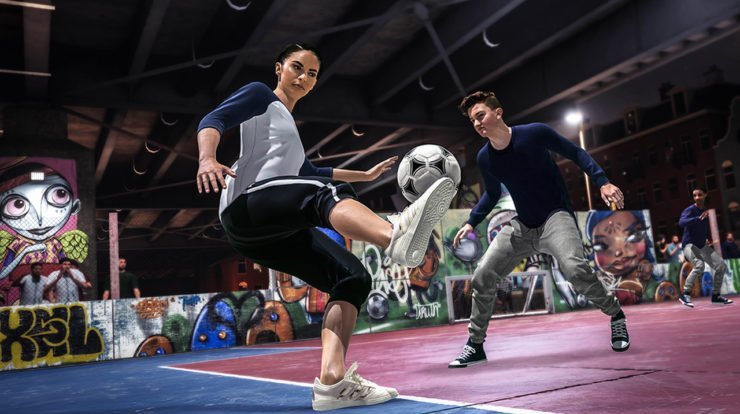 Introduction
FIFA Volta, the origin of the name comes from Portuguese word "Volta" meaning 'to return'. Volta brings you the thrill of stadium gameplay to the aesthetics of streets football above all. It's providing you with more tools to express yourself in the soccer world. The trailer released showed us a lot in terms of what can we expect from this. You can check out the trailer at:
Volta is being released as a part of FIFA 20 on 27th September 2019. You can check out the preorder and edition information from here.
Customisation
Volta provides you with impressive player customization. You can choose from a variety of hairstyles, looks and tattoos to go with it.
You can dress you character which can either be a male or female character based on player's preference.
Furthermore, it comprises of two features which are most liked by gamers as well as soccer fans. They comprise of celebration emotes in ample amount.
Gear
What's a soccer game if you cannot put on different gears. Volta provides you with a variety of t-shirts, shoes, jerseys and sweaters to customize with. Other vanity items can be unlocked by completing the "in-game challenges"
Location
A wide of locations are available for you to play from around the globe. Be it the underpass in Amsterdam or neighborhood cage in London or a Tokyo rooftop. Bringing all the ethnic aspects of regional soccer from all parts of the globe.
FIFA Volta Game Modes
A lot of wall and non-walled environments are available for you to play matches in 3v3, 4v4, 5v5 and even professional futsal.
VOLTA Kick-Off
This mode lets you play your professional club teams at unusual places. You can play Chelsea vs Spurs in a London cage, Lyon vs PSG in Paris and even the Madrid derby in the streets of Spain. Vary the match formats and the locations as well.
VOLTA World
Build up your Volta team by playing through Single Player Matches against community generated squads in a variety of formats and locations. After each victory, recruit a player from the opposing team and build your squad up in terms of both skill and chemistry.
VOLTA Story
Want to make your own Volta team. Get along with the single player matches to make your team. The Single Player Matches are played against community generated squads and again in a variety of formats played at variety of locations. You recruit a player from the opposing team when you beat an opponent team and therefore you create your own team with players with best skills.
VOLTA League
Volta League is the online way of building your player through promotion. Place your team against others in player team vs player team, where winning will lead to promotion into a higher division.