Samsung has finally unveiled the long awaited flagship beast and the specifications are out now as well, here the long and short of it from the official launch details by Samsung after today's live stream event.
Display
Both The galaxy S8 and S8+ feature a Super AMOLED capacitive touchscreen which comes in a 5.8 inches and 6.2 inch for the two models respectively and a screen resolution of 1440 x 2960 pixels with a pixel density higher than 550 PPI and features Corning Gorilla Glass 5 protection.
Hardware
The Galaxy S8 and S8+ both feature a baseline operating system which is the v7.0 Nougat and a Qualcomm MSM 8998 Snapdragon 835 and Exynos 8895 Octa – EMEA chipset with an Octa-core processor with an Adreno 540 Graphics chip.
The devices comes with 4GB of LPDDR4 Ram and the base model comes with 64GB of internal storage with SD card support to expand the storage to upto 256GB.
The battery is a 3000 mAH and the Plus model of the S8 will come with 3500 mAH battery and both the variants have support of Bluetooth 5.
Security features include both iris and fingerprint scanner.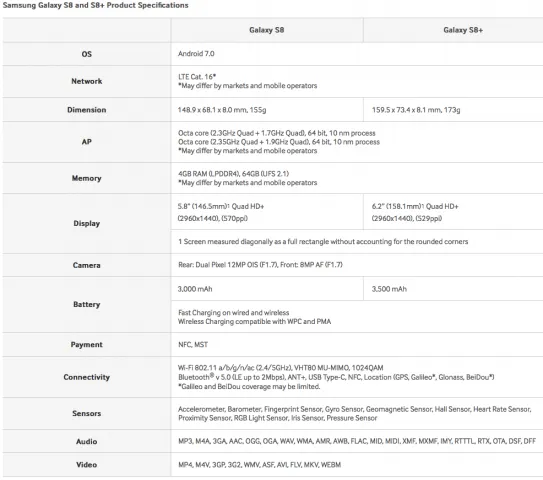 These specifications are definitely on the higher end of the spectrum and the device is taking performance and premium to a whole new level.